LTEおよび5Gアプリケーションおよびサービス市場:サービスプロバイダーの種類別(MNO、OTT、エンドユーザー)、接続の種類別、展開別(パブリック・プライベートの仮想化、プライベート、ハイブリッド)、5Gサービスカテゴリー別(eMBB、mmTC、URLLC)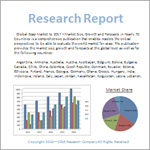 ◆英語タイトル:
LTE and 5G Applications and Services Market by Service Provider Type (MNO, OTT, End-user), Connection Type, Deployment Type (Public and Private Virtualized, Dedicated, and Hybrid), Use Cases, 5G Service Category (eMBB, mMTC, URLLC), Computing as a Service
◆商品コード:DATA00109070
◆発行会社(リサーチ会社):
Mind Commerce
◆発行日:2019年12月
◆ページ数:465
◆レポート形式:英語 / PDF
◆納品方法:Eメール(受注後24時間以内)
◆調査対象地域:グローバル
◆産業分野:IT・通信
◆販売価格オプション(消費税別)
※販売価格オプションの説明はこちらで、ご利用ガイドはこちらでご確認いただけます。
※お支払金額は「換算金額(日本円)+消費税+配送料(Eメール納品は無料)」です。
※本体価格が¥30,000未満のレポートにつきましては、ハンドリングチャージ¥5,000が別途かかります。
※Eメールによる納品の場合、通常ご注文当日~2日以内に納品致します。
※レポート納品後、納品日+5日以内に請求書を発行し、お客様宛に郵送いたしますので、請求書発行日より2ヶ月以内に銀行振込にて支払をお願いします。
※上記の日本語題名はH&Iグローバルリサーチが翻訳したものです。英語版原本には日本語表記はありません。
※為替レートは適宜修正・更新しております。リアルタイム更新ではありません。
※弊社H&Iグローバルリサーチ株式会社はMind Commerce社の日本における正規代理店です。同社発行の市場リサーチレポート及びリサーチサービスに関するお問い合わせは弊社までお願い致します。Mind Commerce社の概要及び新刊レポートはこちらでご確認いただけます。


【レポートの概要】
LTE and 5G Applications and Services Market by Service Provider Type (MNO, OTT, End-user), Connection Type, Deployment Type (Public and Private Virtualized, Dedicated, and Hybrid), Use Cases, 5G Service Category (eMBB, mMTC, URLLC), Computing as a Service (Public, Private, Hybrid), Industry Verticals, Region and Country 2019 – 2024
5G will also bring about fundamental structural economic changes, such as significantly lower broadband pricing as a whole, and also much greater flexibility for enterprise, industrial, and government market segments in terms of how they connect public to private networks. The use cases for future 5G enabled applications and services are many and varied in terms of type, industry vertical focus, and requirements. Correspondingly, each scenario will have its own network configuration of requirements and parameters.
This is the most comprehensive research available addressing the LTE and 5G application and service market. This report evaluates cellular broadband applications and services including revenue and usage (subscribers/users) by LTE, LTE Advanced, LTE Advanced Pro, and 5G. The report also assesses LTE and 5G in private wireless networks as well as market opportunities for Mobile Edge Computing (MEC) in public and private networks including the market for computing as a service. The report includes 5G application market sizing as well as LTE apps and services in terms of penetration and revenue for the following areas:
• Mobile Network Operator Provided Apps and Services in Consumer, Business, and Government Markets
• Computing as a Service (via Mobile Edge Computing) by Customer Type (Enterprise, Industrial, and Government)
• OTT Provided Apps and Services including VoIP, Messaging, Social Media, Video, Entertainment, and Productivity
• LTE, LTE Advanced, LTE Advanced Pro and 5G based Apps by Smart Cities and Suburbs, Exurban Areas, Rural Areas
• LTE Applications and Services by LTE User Equipment (LTE UE) Categories including Cat M1, Cat NB1, Cat 1, and Cat 4
• Apps and Services by LTE and 5G Device including Modems, IoT/M2M Modules, Smartphones, Wearables, and more
• LTE and 5G in Critical Communications by Segment (Public Safety, Homeland Security, Transportation, Utilities, Others)
• LTE and 5G Applications by Industry Vertical including Automotive, Government, Healthcare, Manufacturing, and Retail
• 5G Apps by Private Wireless, Industrial Automation, Critical Communications Services, Industry Verticals, and much more
• 5G Apps and Services by Category: Enhanced Mobile Broadband, Ultra-Reliable Low Latency Communications, and Massive Machine-Type Communications
The report also evaluates supporting technologies such as Artificial Intelligence in LTE and 5G by Technology, Customer Type, and Data as a Service. The report also assesses opportunities for Blockchain technology in 5G. For example, the report provides forecasting for Global Blockchain Driven LTE and 5G Application and Service Market by Connection.
For more details, see the Table of Contents including list of Figures and Tables. All direct purchases of Mind Commerce reports includes time with an expert analyst who will help you link key findings in the report to the business issues you're addressing. This needs to be used within three months of purchasing the report.
Select Report Findings:
• Mobile Edge Computing will be key for private wireless implementation
• MEC will also be important for public consumer applications, but lower priority
• 5GNR market for private wireless in industrial automation will reach $3.1B by 2024
• Global revenue for LTE based SMB mobility apps and service will reach $5.5B by 2024
• 5G applications market for enterprise and industrial segments will reach $29.4B globally by 2024
• Key 5G applications for business will be IoT connectivity, SMB/corporate mobility, and fixed wireless
Select Report Benefits:
• Forecasts for LTE and 5G applications, private wireless, computing as a service 2019 to 2024
• Identify important applications and services for LTE, LTE Advanced, LTE Pro, and 5G connectivity
• Understand the role and importance of Mobile Edge Computing in private wireless marketplace
• Identify leading applications from a go-to-market and ROI perspective for both LTE and 5G connectivity
• Recognize opportunities for edge computing support of consumer apps and computing as a service for business
Target Audience:
• Mobile Network Operators
• API management companies
• SDN and virtualization vendors
• Telecom managed service providers
• Wireless/mobile infrastructure providers
• Software, Application, and Content Providers
Companies in Report:
• AT&T
• Airspan
• Airtel
• Alibaba
• Altair Semiconductor
• Alvarion
• Amazon
• America Movil
• Analog Devices Inc.
• Apple
• Ascom
• Asus
• Broadcom Corporation
• BT Group
• Cavium Inc.
• China Mobile
• China Telecom
• China Unicom
• Ciena Corporation
• Cisco Systems
• ClipBucket
• Cobham Wireless
• Colt
• Contus Vplay
• Coolpad Dyno
• Cradlepoint
• Deutsche Telekom AG
• Dish
• D-Link
• DU
• Entel
• Ericsson
• Eurotech
• Facebook
• Fitbit
• Fubo TV
• Fujitsu Ltd.
• Gemalto
• Google
• Harris
• HPE
• HTC
• Huawei Technologies
• Hulu
• Hytera
• Inmarsat
• Intel Corporation
• Juniper Network Inc.
• KDDI Corporation
• KT Corporation
• Leonardo
• LG Electronics
• LG Uplus
• M2M Connectivity PTY Ltd.
• MACOM Technology
• MediaTek Inc.
• Mentura Group
• Microsoft
• Misfit
• Mobiotics
• Mobvoi
• Motorola
• Movistar
• Muvi
• MYCOM OSI
• NEC Corporation
• Netcracker
• Netflix
• Netgear
• Nokia Network
• NTT DoCoMo
• Ooredoo
• Ooyala
• Orange SA
• Philo TV
• Qorvo Inc.
• Qualcomm
• Quickplay
• Rakuten
• RedLinX
• REVE Systems
• Ribbon Communications
• Rogers Communications
• Roku
• Samsung Electronics
• Saudi Telecom Company
• Sierra Wireless
• SimNet Wireless
• SingTel
• Siretta
• SK Telecom
• Sky Go
• Skype
• Snap Inc.
• Softbank Group
• Sony
• Spark NZ
• Spotify AB
• Sprint Corporation
• Swisscom
• Telecom Italia
• Telefonica
• Telegram
• Telenor
• Telit Communications
• Telstra
• Tencent
• Texim Europe
• T-Mobile USA
• UbiFi
• Verizon
• Vidmind
• VMware Inc.
• Vodafone Group
• Vplayed
• WeChat
• Zain
• Zenitel
• ZTE Corporation
• Zyxel
【レポートの目次】


★リサーチレポート[ LTEおよび5Gアプリケーションおよびサービス市場:サービスプロバイダーの種類別(MNO、OTT、エンドユーザー)、接続の種類別、展開別(パブリック・プライベートの仮想化、プライベート、ハイブリッド)、5Gサービスカテゴリー別(eMBB、mmTC、URLLC)(LTE and 5G Applications and Services Market by Service Provider Type (MNO, OTT, End-user), Connection Type, Deployment Type (Public and Private Virtualized, Dedicated, and Hybrid), Use Cases, 5G Service Category (eMBB, mMTC, URLLC), Computing as a Service)]についてメールでお問い合わせはこちらでお願いします。
---